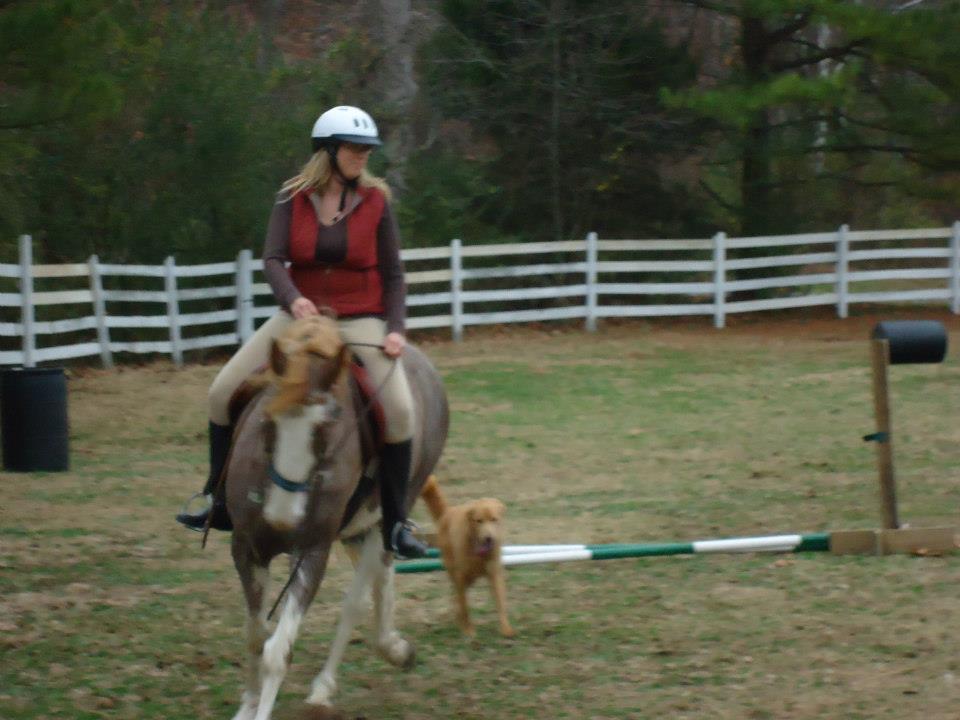 Hello, my name is Kristi Kay May, I am the Founder of Legend Acres and Legend Acres Charities. I am originally from Port Hope, Michigan where dairy cows outnumber the people. I got my first horse around the age of six, and have grown up with horses and have shown and competed all my life. I did take a break from horses while I was in the Army, when I was able to purchase a farm outside Fort Campbell, Kentucky Horses came back into my life. Legend Acres came about as way to fill a need in the community. As an owner of a large dog to go out of town and board my dog was the equivalent to my mortgage payment. As a disabled veteran I was also unable to work in the traditional setting of a job. I created Legend Acres to create a job for myself and to provide affordable quality pet care! As the owner operator of Legend Acres Animals are my passion. I was featured in National Small Business Week: Entrepreneurship Panel Discussion May of 2019. Legend Acres was a
finalist
in the Best Small Business in America in 2018 and was
1 of the 10 businesses chosen by the Institute for Veterans and Military Families – IVMF for the
Acceleration
Challenge
and
awarded funding
through the D'Aniello Family Foundation. Legend Acres was also chosen to be
featured in the Business Showcase
at the IVMF VeteranEdge Conference in Dallas, TX March of 2019. I currently have a bachelor's in Animal Health Technology/ Pre-Veterinary Medicine from Murray State University. A Masters in Animal Science with a Veterinary Practice Manager Certification at Murray State University.
My Thesis is about Equine Osteoarthritis
. I was a Graduate Teaching Assistant at Murray State University in the Animal Health Technology Program. I am a certified Dog Obedience Instructor through Animal Behavior College. AKC Evaluator, CHA Certified Riding Instructor, and CHA Certified Equine Facility Manger. I have a Certification in Equine Nutrition from University of Gelph and a Cognitive Canine Behavior Certification from Duke University. I am a Dog Obedience Mentor for Animal Behavior College and host Externship Students at all our
locations
. I am a Certified Pet Therapy Handler and Certified Pet Therapy Team with my Golden Retriever Legend through Pet Partners. Legend and I participate in many local
schools
and
programs
. I am pursuing a Behavior Consultant Certification through International Association of Animal Behavior Consultants (IAABC). I am a serial Entrepreneur and my goal in life to to touch others and help them along their path in whatever way is needed at the time. I have several business that I am involved in as well as Legend Acres! I have multiple health issues that I have been able to regulate through diet, nutrition, and fitness! I have a side business in Health and Wellness with
Thrive by Lev-el
helping others take back their health! If you are not healthy and well and taking care of yourself it is hard to function not only in life but you are unable to spill that over into other peoples lives! What I put on my
skin
, in my body and in my life are vital to what I can do BeautyCounter skin care and cosmetics has helped me by reducing my exposures to chemicals with +1500
questionable ingredients
and my new never list!!! Essential Oils are also an intricate part of my life as well as Dog and Horse use visit my
DoTerra
Page for more
information
. Herbs also are part of my life with Nature's Sunshine Code 60509332
If you want to follow my journey visit my
Health Starts with You
! I have an interest in education and professional development and I help people take back control of their
finances
and then to improve on themselves
personal
,
spiritually
, and
professionally
. Leaders are readers and staying current in people skills and business is important no matter the line of work you maybe in! I am an educator at heart and along with teaching Dog Obedience and Horse Back Riding Lessons, I am also an assistant
TLAER
Instructor
and teach courses in Equine First Aid and conduct one day TLAER introduction courses as well as Barn Fire prevention and Disaster
preparedness
! At Legend Acres we host monthly educational clinics for more information on our upcoming classes please visit our
Facebook Event Page
! As a serial
Entrepreneur
I look for ways to help others get started on
their
dream as a Board Member of the Stewart County Chamber of
Commerce
, a member of the
Robertson
County Chamber of
Commerce
I have created
Legend
Acres Business Solutions and help others with social media marketing and assistance in how to get started in business. With a Masters in Business
Management
and numerous certifications in Social
Media
Marketing and Planning I can teach you how to take control of your online presents or maintain your platforms for you! I enjoy giving back and volunteer my time each year to the Christian Veterinary Mission as a Large Animal
Veterinary
Technologist and travel to
Pine-ridge
Native American
Reservation. In my spare time I enjoy spending time with my family and dogs Legend and Shilo Anne, horseback riding, kayaking, and reading.